* Rates vary depending on the carrier size
The Cross Belt Sorter is perfect for applications that require high accuracy and fast sortation as well as the ability to handle items of varied sizes, shapes and weights. The Cross Belt Sorter can carry and sort items weighing from 5 grams to 60 Kg (0.2oz to 132lbs) at speeds up to 3 m/s (590 FPM), translating to rates up to 13,250 sorts per hour.*
GBI's "smart" technology automatically selects loading and deployment belt speeds and determines the exact products position on the carriers which facilitate precise and gentle package sortation.
The modular component design is scalable, and may be expanded, or configured to meet the customer's changing requirements. The system runs quietly with a noise level at or below 60dB, with a sortation accuracy of approximately 99.95% or better.
Each standard GBI cross belt sorter is customized to meet the needs of each customer's operation. Here is a sampling of cross belt industry applications: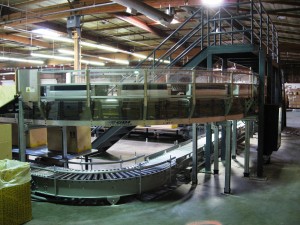 Industry and Applications:
Groceries and hard goods;
Express parcels;
Consumer goods;
Hardware and tools;
Apparel (loose or in polybags);
And many more.
Simultaneously sorts a combination of both light and heavy weight items;
Loads and discharges parcels from either side of the sorter frame;
Quiet running and low maintenance linear induction motors;
Built using modular components for scalability to expand, contract or configure;
Inclines and/ or declines may be added as needed;
Infra-red communication are utilized eliminate wires and radio interference;
Excellent for products of varying sizes and shapes plus bags, cartons, totes, packages and parcels.